Unlimited Internet For RVs On A Reliable 5G or 4G LTE Network
Experience our portable WiFi hotspot devices delivering high speed internet for RVs. Browse online, stream movies and much more on our unlimited 5G or 4G LTE WiFi data plans.
(Activation and prepaid service fees not refundable)
Prices starting at
$59/month
All taxes & fees included.
For maximum subscriber performance, National Carrier prioritizes all devices and data plans based on network congestion to keep you connected.
With our 14-day Money Back Guarantee on all equipment purchases, you literally have nothing to lose! Our Money Back Guarantee applies solely to the cost of equipment. Prepaid monthly plan, SIM card, activation fee, and shipping costs are not refundable.
Whether you enjoy camping in a motorhome, travel trailer, or a tent, having high-speed internet at your fingertips can enhance your experience. Some RV internet users enjoy a little online entertainment in the form of streaming television and movies, while others use their WiFi RV hotspot for travel info like finding local campsites and areas of interest or locating needed supplies. And when your travel trailer internet is used for connecting to family or combining work with travel, consistent connectivity is the key to your satisfaction.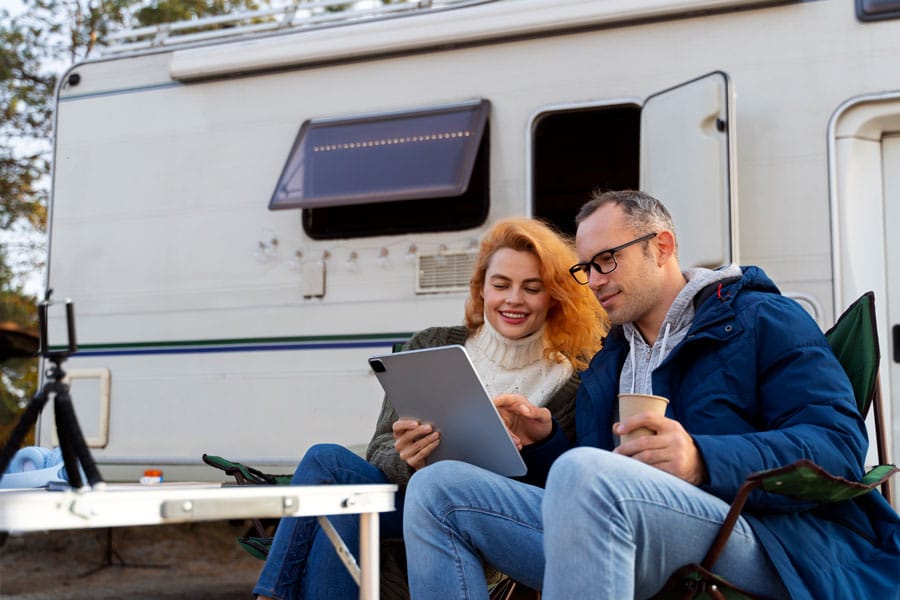 But finding a provider that understands WiFi for RV travel is also key.  There are many solutions available to address the unique needs of each user of mobile WiFi for travel trailers. The first step is to find a company that stays current with the ever-changing and developing technology. You also need one with a reputation for customer service.
For a long time, internet for campers was limited to long-term commitments on painfully slow and expensive satellite services or very limited high-speed wireless data plans. You know, the kind of plans that throttle your speed down to useless dial up rates after using 5-10 GBs of data per month (about 2-3 streamed movies). We have revolutionized wireless internet for RVs by offering unlimited data with no throttling, no long-term contracts, 24/7 customer service, and affordable pricing.
The RV Industry Association reported that 2019 RV sales are on track to exceed 415,000 units and 2020 is forecasted at over 425,000 RVs. These mostly Baby-Boomer and Millennial buyers are tech-savvy and digitally connected. So, the demand for wireless internet and WiFi for RV travel will continue to climb and the technology will continue to advance. We are prepared for the change this growth will bring.
Major wireless data and voice providers are preparing by adding to the cellular infrastructure. Wireless data services are reaching out to more and more locations every day. While wireless data is not always available in the most remote locations, the promise of wireless technology has already brought coverage to areas which were before thought unlikely.
With our knowledge of industry developments from effective antenna choices to the efficacy of specialty hardware, our technicians and staff are dedicated to finding the answers needed to supply affordable high-speed internet for RV users nationwide.
Why not pick up the phone and give us a call at 855-556-3278 or click here to order online. Talk or chat with a customer service agent and see why our customers are always telling friends and family about our company. Our service agent will be able to give you a free analysis on wireless data coverage for your situation and locations and answer any questions you might have. Call, and you could be enjoying the best solution for RV internet service in a matter of days.
The Snowbirds
Doris and Garret Fletcher spend their summers in their rural upstate New York home and their winters in an RV Park in Southern Florida. Their home in New York is about a mile away from internet and television programming from their local cable company, and while satellite internet service could give them enough speed to use email when the weather was good, it wasn't a good value considering the cost. They heard about Unlimited LTE Advanced from friends in Florida who used the internet for RV service for almost 3 years. So, they called the toll-free number and received their "ready-to-go" RV internet package in 3 days. Not only were they pleased with their campground service, but it worked so well at home that some of their friends cut the cable and saved money by switching to the popular unlimited high-speed internet provider at their homes as well.
The Home Away From Home Business
Dean and Sharon are full-time RVers. The rock-hounding couple travel around the country prospecting and preparing stones for sale online and at art festivals in select destinations. With their motorhome internet from Unlimited LTE Advanced, they manage their social media and e-commerce, and enjoy interaction with family (especially grandkids!). While staying in a campground where the camp's free WiFi for RV internet service was pitiful, Sharon had the idea to offer a guest WiFi at the campground and their booth. They called Unlimited LTE Advanced customer service and a tech walked them through getting the hardware and setting up a guest WiFi with limits and safety. Their free "Motorhome WiFi" provides WiFi for travel trailers, RVs, and tent campers. They now have a fast-growing mail list and a vast network of camp acquaintances and customers.
WiFi Saves The Day
David and his family were pulling their camp trailer through Bend, Oregon, one summer day, and stopped for lunch at a small café. David's wife noticed smoke coming from behind one of the trailer wheels, and after some inspection, it was determined that the trailer wheel needed a new bearing. David, however, didn't want to blow a chunk of the vacation budget on a mechanic bill. Luckily, David is handy with a wrench, but he wasn't quite sure how to tackle this job. David turned on his internet for RV hotspot and headed to the restaurant with his laptop. He found parts and a YouTube tutorial before the family's lunch was delivered. After lunch the kids streamed a movie and played in the park while David fixed the bearing.