Plainly put, a wired Ethernet network just isn't for everyone. Whether a building's construction doesn't allow for a secure, steady connection, you're on the road traveling or working, or living in a remote area, a landline connection is simply not feasible.
In scenarios like these, a portable WiFi hotspot is a secure and reliable alternative that will allow you to: check emails on the fly, connect to social media, watch Netflix or Hulu, and even play your favorite online game (Fortnite, anyone?).
Even businesses with a crowded network can benefit from the increased speeds of a focused wireless connection that allows them to securely share documents, run printing tasks, process payments, and so much more.
Portable WiFi Hotspots and How They Work
A portable WiFi hotspot is a dedicated device that allows for Internet connectivity via a WLAN (wireless local area network) connection. You've probably come across them going to the library, local coffee shop, or favorite restaurant.
So how does a hotspot work? As for the equipment itself, hotspot devices create the network that users can connect to in order to perform online tasks. It's the technology that allows:
Freelancers to perform their work away from their home office.
Users to watch their favorite YouTube videos while working or traveling.
Faster communication between gaming teams.
At Unlimited LTE Advanced, we have two hotspot devices that will get you online quickly: the portable ZTE Velocity WiFi Hotspot, and the Netgear 4G LTE Modem, both of which are powered by a wireless LTE connection (more on this later).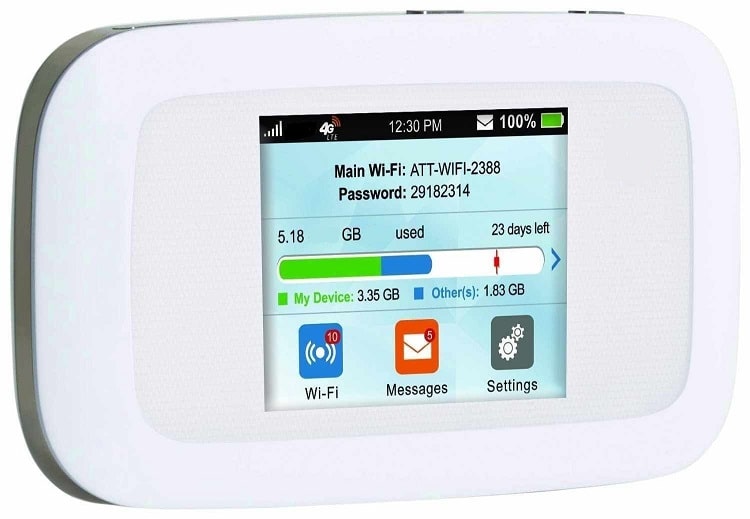 The ZTE Velocity WiFi Hotspot is a multi-band device that supports LTE bands 2/4/5/17/29 and UMTS HSPA 850/1900/2100, as well as Dual-Band WiFi at 2.4Ghz or 5Ghz. So what does that mean? It means that this device can get you connected over a wider spectrum of service areas, keeping you in the loop.
And with the power of the single-core Qualcomm MDM9225 processor, you can connect up to 10 devices simultaneously, with separate guest WiFi as an option.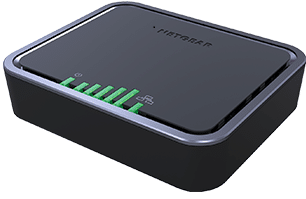 If you have a router and know the password to access it, the Netgear 4G LTE Modem LB1120 can provide an automatic 4G LTE or 3G fallback broadband connection. Simply plug in your AC power adapter and plug your router into the Gigabit Ethernet WAN port, and you can share the connection with all of your WiFi and wired devices.
Band support for the Netgear 4G LTE Modem includes LTE Category 4, which includes bands 2, 4, 5, and 12, with UMTS DC-HSPA+ on bands 2 and 5. In other words, it's the perfect solution for those needing flexible and secure home and office connectivity.
Even if you don't have a router, the Netgear 4G LTE Modem can be connected to a computer for a quick, single device connection that's safe enough for secure enterprise VPN (Virtual Private Network) configuration, which is great for ecommerce site owners and website builders.
The brain behind this awesome LTE connectivity are the hotspot plans we have available. Our data plans are powered by major national GSM carriers such as T-Mobile and AT&T. Do note that these devices do not work on CDMA networks like Sprint and Verizon.
We will work with you to determine which major national provider will provide you the best coverage, but the best part is that our hotspot plans are only $80 per month, and that's for unlimited LTE coverage with no contract, hidden fees, or credit checks!
By now, you're probably wondering who would benefit most from an unlimited WiFi hotspot. We're glad you asked…
Hotspot Uses
To be honest, almost anybody needing a secure, quick Internet connection can benefit from a portable WiFi hotspot.
So what if you travel a lot? You know who we're talking about: truckers, snow birds, salespeople, off-grid freelancers, and so many more. You don't have to be in the dark while on the road or finding yourself in a rural location with no network connection available.
When it's time to settle in at night, many of us turn to Netflix, YouTube, Hulu, or what have you to unwind. Whether your parked in a rest area or even the side of the road, a portable WiFi hotspot can allow you to cue up your favorite videos, television show, or series.
And what about those who live in an RV full-time, who many times find themselves in the middle or rural nowhere? A portable WiFi hotspot is an excellent RV Internet option, and is far more reliable and inexpensive when compared to satellite Internet, of which the latter can succumb to inclement weather.
So what if you have a smartphone that allows for tethering? Wouldn't that be better than buying a dedicated portable WiFi hotspot? There are, in fact, key differences between them that you should be made aware of…
Tethering Vs. Hotspot
So what is the difference between tethering and hotspot? In the context of mobile technology, tethering is connecting a mobile phone to a laptop share an Internet connection. There are three ways that this can be accomplished:

WiFi Tethering
Most smartphones are equipped with a Mobile Hotspot option, and may require a password in order for other devices to connect to it.
Pro: It provides a quick connection for multiple other Wifi-enabled devices that uses your phone's data plan.
Con: It drains the phone's battery very quickly.

Bluetooth Tethering
By connecting your laptop to your phone via a Bluetooth connection, you can enjoy not having to perform too many modifications, but it comes at a price.
Pro: The battery doesn't drain as quickly when compared to WiFi tethering.
Con: It's not as fast as WiFi, and only one connection is allowed.
USB Tethering
If you have your USB cable handy, you can plug your smartphone into your laptop and begin surfing, after you install the drivers.
Pro: Your phone can simultaneously charge while serving as a modem.
Con: Only one connection is allowed, and is not an option if you don't have your phone's USB cable.
So sure, tethering your smartphone may be a quick solution to get you online, but all three options have one caveat: you're subject to the agreement between you and your carrier.
Simple translation: you may experience hard data caps, throttling and/or slowdown until your next bill cycle, and excessive data charges.
With a portable WiFi hotspot with unlimited LTE coverage, you don't have to worry about any hidden fees or excess data charges. The device is designed with one simple goal in mind: to get you on the Internet wherever cellular data network coverage is available, to do whatever you need to do, and however long you need to do it.
Instead of futzing about with drivers and data caps, getting online is as simple as turning on your portable WiFi hotspot and connecting to it as you would to any wireless network. Even better, most modern PCs and smartphones are able to remember networks that they've connected to previously, which makes getting online faster that much more simpler.
And unlike using a phone as a tethering device, which can throttle data or drop connection when you get a phone call, a dedicated device like a portable WiFi hotspot will get you online and keep you there, without fear of missing an important call or losing connection while drafting a crucial email.
As with any other long-term decision, it's important to know what options are available to determine which plan is right for you. Which brings us to our final topic…
What To Look For When Researching Hotspot Plans
Alright. It's time to get down to the nitty gritty of finding the plan that works best for you. While it's true that many of the options out there currently offer 4G connection simply out of necessity, not all service providers or equipment manufacturers are created equal.
Before picking a plan, it's important for you to know that many service providers:
Require a contract before providing services at an inflated per-month cost.
May penalize you with an early termination fee, or ETF, if you choose to sever your business relationship.
May not be able to provide reliable coverage for multiple reasons, from deprioritization to equipment/network incompatibility.
Have data caps that can result in degraded network connectivity and excessive data charges.
At Unlimited LTE Advanced, the devices we offer come with:
4G capability right out of the box.
Unlocked GSM equipment for use with any GSM provider.
No contract or hidden fees to worry about, and the best part of all…
Unlimited data with an unlimited plan!
Consider us your cheap, easy-to-maintain, worry-free alternative to crowded WiFi networks, spotty satellite Internet, and fee-happy service providers. We can get you into a worry-free unlimited wireless Internet option that works best for you. Ask us how today!